New this summer - Swarovski binoculars for hire in Serfaus-Fiss-Ladis
Binocular rental
Rent premium binoculars from Swarovski Optik and discover marmots, eagles and chamois up close in the mountains of Serfaus-Fiss-Ladis! The small pack size and low weight of the rental binoculars make every hike a very special adventure.
Find shops with binocular hire
Unkomplizierter Verleih
Beste Optik bei geringem Gewicht
See the unseen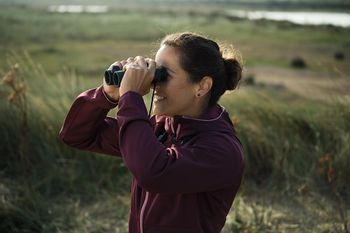 Your benefits
Rent a binocular and enjoy the nature
Uncomplicated hire process
Let our staff advise you and conveniently hire a one of our binoculars in the centre of Serfaus or at the cablecar station - it's easy!
Best quality
Enjoy the sensation of an excellent quality product from Swarovski made in Austria
See the unseen
Discover our beautiful nature in a new perspective and make your next hike something special
Hiking with a view - this is waiting for you
Discover our cooperation with Swarovski Optik
The perfect binoculars for mountain and hiking tours
CL Curio 7x21
7x magnification
lens diameter 21mm
light and compact binoculars
weight approx. 250g
easy to use, sturdy and foldable
Price per day: € 16.50
CL Pocket 8x25
8x magnification
lens diameter 25mm
small, foldable and intuitive to use
impressive optical performance
weight approx. 345g
Price per day: € 16.50
CL Companion 8x30
8x magnification
lens diameter 30mm
comfortable field of view
easy to use and robust
weight approx. 490g
Price per day: € 16,50
Swarovski Optik
Renting Swarovski binoculars from the CL family, you not only have the perfect hike companion with you - you also have a quality product in your hands directly from the Tyrol region. The binoculars are produced near Innsbruck - in Absam - and the research and development department are also headquartered here. Since it was founded in 1949, SWAROVSKI OPTIK has developed into one of the world's leading manufacturers of excellent long-range optics products for hunters, bird watchers and nature lovers. Precision, innovation and a great passion for nature are the focus of the family business - this is also reflected in each of their handcrafted products.
Explore the brand world of Swarovski Optik
Here you find Swarovski binoculars for hire
S1 Center at the cablecar station or Patscheider Haus in the middle of the village
Discover Murmlis & Co. on our favourite hikes
Hiking recommendation with binoculars in Serfaus
The major renovation of the Komperdell valley and middle station shouldn't stop you from going on mountain hikes. We have selected two tours that you can easily reach with the Alpkopfbahn or the Sunliner and on which you are guaranteed to spot marmots and, with a bit of luck, even chamois and ibexes with binoculars! Have fun on our favorite day hikes with great views of the beautiful mountain landscape, rushing rivers and waterfalls. Combined tours with an e-bike are also recommended this summer.
Murmeltiersteig Tour - from Serfaus with Sunliner to the Panorama Genussweg in the direction of the Komperdell middle station - from there continue up towards Plansegg (21) to the Murmeltiersteig - if you want to go a little further, you can also make a detour to Blankasee (22, 22a) back to Furglersee (24). Otherwise from Furglersee back towards Lazidbahn (25a). Difficulty: medium; duration approx. 6 hours
Circular hike to the Hintere Heubergen - from Serfaus Alpkopf with Alpkopfbahn - short descent to the Cervosa Alm - ascent towards Lazid via Trujensteig (5b) - either descent to Lawensalp and from there ascent towards Böderhütte (30b) - or directly from the Trujensteig (5b) further over (30) to the Böderhütte - ascent via Riefenjoch (30) to the Hintere Heuberge - from the summit the same way back to the river bed from there either via (31b) or (30) to Lazid - Komperdell middle station - Alpkopfbahn. Difficulty level: medium; duration: approx. 6 hours