Right next to the valley or the half-way station in Serfaus
Snowboard & ski lockers
Checking in your own or also hire equipment with us gives you more time on the slopes. Whilst you are already enjoying your first turns, others are still lugging their equipment to the valley station. The roads in Serfaus are traffic calmed; you can store your equipment unhampered by busy or noisy traffic by taking the underground or simply coming to us on foot and enjoy the rest of your holiday. Our Check In and Take Off are not only two of the largest locker systems in the region but also ensure that your equipment is always perfectly prepared, thanks to the huge variety of services on offer there.
View shops with lockers
Store your equipment right by the slopes
Secure ski and snowboard lockers
Special boot disinfection and drying systems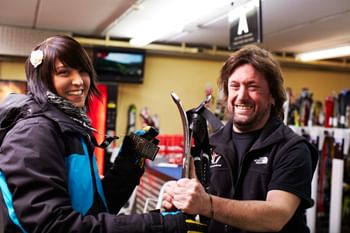 Dein Snowboarddepot & Skidepot in Serfaus
Enjoy the benefits of our ski and snowboard lockers
Top, easily accessible location in the centre of Serfaus
Situated directly next to either the valley or the half-way station, we are easily reached by underground or on foot, depending on where your accommodation is located. You'll therefore be on the slopes in next to no time; you won't have to carry your equipment far from our shop.
No lugging your gear around
Treat yourself to a comfortable start to the day. Come to wearing your normal boots, and make use of our generous range of comfortable seating to change into your ski boots and begin your skiing fun straight away without losing time.
Service, rather than self-service
Our lockers are serviced; a staff member is therefore available at all times to help you and to give you practical advice. We revive our youngest visitors with a grape sugar sweetie after a hard day on the slopes.
Secure storage
Your equipment is disinfected, dried and stored safely overnight in a locker that can only be accessed by our staff. You can therefore head straight for the lifts the next day.
Tuning and repair centre
Whilst you relax at your hotel and recharge your batteries, it's the turn of our local professionals to do what they do best and give your skis or snowboard a perfect coat and grind overnight for more fun on the slopes.
More services all under one roof
Besides ski and snowboard servicing, our hire shop also has a wide range of skis, snowboards, boots and accessories on offer, all of the usual Patscheider quality. We have everything you might wish for.
How to store your ski, snowboard and boots in a locker at Patscheider
Our lockers in Serfaus
Hiring a locker from us is as easy as one, two, three. Collect the tickets you have pre-booked online or purchase your personalised locker ticket at the till at the check-in or at the take-off. On request, everyone receives a ticket with a number for their skis including poles, snowboard and/or boots.
All you need to do is to go to the counter marked with the respective letter (e.g. A, B, C etc.), show your ticket to a staff member and hand them your equipment or boots.
Our friendly staff will then put your equipment in the right place and return it to you as often as you need it. Plenty of seating ensures that you and your family or friends can change in comfort without rushing.
Additional benefits of using the Patscheider Sport lockers
Special offer for a week: stay for 7 days - pay for 5 days!
You can easily change from our lockers at the valley station to our lockers at the half-way station and vice versa at any time.
We are also open throughout from 07:00 to 23:00 on Wednesdays, from when the slopes are open until after the end of Adventure Night.
You can also hire one of our lockers for the entire season. This means that you can store your equipment in your locker at all times.
We also offer guests who come to Serfaus regularly every year storage of their equipment over the summer.
Some pictures of our lockers in Serfaus
Discounted prices - ski for seven days - pay for only five
Reserve and book locker places
We not only offer you uncomplicated and convenient equipment storage, but also all of this for a fair price with a maximum service offer.
Benefit from our particularly affordable discounted weekly price bundle for your equipment:
Ski for seven days - pay for five
Adult skis or snowboard plus boots €23 per week
Child's or teenager's (up to the age of 14) skis or snowboard plus boots €18 per week.
As our lockers are very much in demand particularly during the school holidays, we suggest reserving or booking a locker space in advance online.
7 Tage fahren
5 Tage zahlen
Rental- & Depotprices
Prices Winter 2023/24
See here for where to find your locker in Serfaus
Check In, Take Off or Patscheider Shop?
Please do not hesitate to contact us if you have any questions, requests or improvement suggestions to make. Simply write us an email or give us a call. We are already looking forward to meeting you, and to impressing you with our comprehensive offer. You'll also find everything you need to know about the quickest way to get to us here.