S1 Center
"Happy Feet" - Patscheider's boot fitting service
The latest sportswear & outdoor fashion
Fashion trends & top brands
(%%text%%)
Current opening times
Vielen Dank für eine schöne Sommersaison!
Wir sind im Winter wieder für euch da.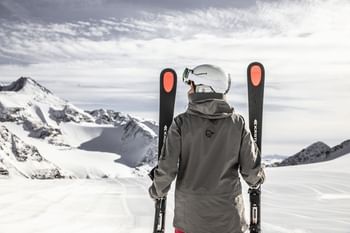 Futuristic, enjoyable & unique
The S1 is located directly next to the cable car underground station in Serfaus
The S1 centre sets new benchmarks – and does so in an absolute prime location: situated in the middle of Serfaus, right below the Komperdell cable car line, the futuristic building is already an attraction on its own. At the S1, you'll find everything that makes outdoor sports in Serfaus-Fiss-Ladis so special:
"Happy Feet" - Patscheider's boot fitting service
The latest outdoor fashion for all seasons and weather
In the summer, hiking equipment and accessories
In the winter ski drop-off point for servicing
New: binoculars hire in cooperation with Swarovski Optik
Our ambitions team will give you excellent advice; we offer you the best prices and super terms at the pole position of mountain life in Serfaus.
Architectural highlight
Alpine lifestyle on a completely new level
Unique inside and out: the S1 was designed by the architect Klaus Mathoy and developed in cooperation with Franz Patscheider. Daring, avant-garde and visionary, this fascinating building complex is reminiscent of a futuristic ski jump ramp – an intentional resemblance, as you'll be setting off from here, right next to the S1 in Serfaus, on your unforgettable skiing adventure in the sunny plateau's skiing dimension.
In the course of the construction work, the underground entrance was also redesigned and no longer involves stairs, making it family-friendly. The ticket hall and the expansive forecourt were also modernised. In addition, the S1 also offers emergency medical care and even has a helicopter landing pad on the roof.
Winter in Serfaus-Fiss-Ladis
The right ski equipment from Patscheider
At the S1 centre, you'll find everything you need for your next ski holiday – whether perfect fitting ski boots, helmets, googles, gloves or clothing. Our staff are happy to advise you and can, of course, also recommend a few ski routes.
Brands at the S1
Shopping reinvented
Unique style, optimum functionality and reliable top-quality: at the S1, we offer exclusive brands, the latest fashion and outdoor looks as well as sportswear for all seasons.

Some pictures from our shop
You are welcome to contact us
Any unanswered questions or something unclear? We will be happy to assist. Please select a contact option that works best for you. We look forward to hearing from you.
Sports equipment & fashion
More Patscheider shops near you
Whether our ski hire service at the halfway station or our in-house mountain bike test riding centre: discover Patscheider's other branches in Serfaus.