Conquer the slopes and the off-road terrain with top equipment from Patscheider
Snowboard & ski hire
When winter turns the whole world white, the mountains become an exciting playground for top-level alpine skiing enjoyment. For a passion that combines exercise with freedom, and plenty of outdoor experiences. You can look forward to more than 214 kilometres of excellently groomed slopes in the Serfaus-Fiss-Ladis ski area. Thanks to Patscheider Sport, you'll be perfectly equipped to master all of them.
Discover shops with hire service
Wide range of different brands and models
Always rent the brand new models in one of our 3 rental shops
Individually adjusted to meet your requirements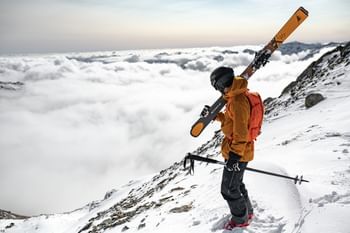 Ski hire in Serfaus – your benefits with Patscheider
Top service in top location
Whether in the centre of the village, at the valley or at the half-way station in Serfaus: you can conveniently reach us on foot or with the underground. We are looking forward to meeting you!
Equipment can already be collected on the previous day
For early birds: To ensure a relaxed start to your holidays, our hire equipment is already available for collection on the day before the hire period starts from 15:00 onwards.
Extended return period
If you return your equipment to us on the following day before 10:00, you won't be charged anything extra. You can therefore relax and really enjoy the end of your stay.
Attractive prices for families
We have a range of special offers for families: For example, if their parents or two legal guardians hire their equipment from us, we waiver the hire charge for equipment for any of their children under the age of ten.
Early bird online discount*
Save time & money on holiday and pay the hire charges for the equipment you need when you make your online reservation (at least two days before the start of the hire period) conveniently from home.
*discount is not valid during the 23.12.2023 - 05.01.2024 and 10.02.2024 - 23.02.2024
Discover the latest models for hire from Patscheider now
The latest ski and snowboard models
The most reliable companions for your time on the alpine pistes are just waiting for you in Serfaus right in the centre of the village or by the cable car stations. You can hire a choice of equipment in an easy and uncomplicated way from us, no need to transport and lug your own gear around with you! From ski boots to helmets. Carving skis, the latest ski and snowboard models, boots and much more.
Every year, the equipment you hire from us will be brand-new and the latest models. Always perfectly waxed, checked and prepared for your timeless adventure in the breathtaking mountains of Serfaus-Fiss-Ladis.
Convenient, uncomplicated and fast
How to hire skis or a snowboard
Save valuable time and money on holiday by simply booking your equipment online in advance from the comfort of your home via our hire platform and receive a discount on your hire charges. You can save even more time when you collect your equipment on site by checking in online beforehand and going directly to the collection counter with your printed voucher or the scan code on your mobile.
You can book the equipment and the model you'd like to hire from us in advance. Should you wish to change your reservation, we will also be there for you free of charge once your booking is completed.
Learn more about the latest models
If you can't make your reservation for any reason, you have the option of cancelling your equipment hire before the collection time free of charge. We don't charge any exchange or cancellation fees, nor any transaction fees.
However, you can also hire your equipment directly at our hire shops at any time without a prior online reservation. You can choose where you would like to collect your equipment, and where you'd like to return it to: in the centre of the village, at the valley or at the half-way station in Serfaus.
CAREFREE AND SAFE IN YOUR VACATION
Ski- and Snowboard insurance
Leave your worries at home and enjoy your vacation relaxed with an insurance for your rental equipment. We know that all sorts of unexpected things can happen on a ski vacation. Especially during the holiday season, we often experience that skis are accidentally mixed up, lost in deep snow or in front of a hut, or even, unfortunately, get stolen willfully. These incidents can quickly spoil a wonderful vacation day. Protect yourself with an insurance for all your rental equipment and receive replacement equipment directly and uncomplicated in our rental shops - with no deductible.
Deductible without insurance: Top Class € 220, - / Vip Class € 360, - / Super Vip Class € 400
download
Rental & storage prices
Some pictures of the hire service in our shops
Hiring is clearly the cleverer option!
Benefit from our hire service
The reason for this is that our ski and snowboard hire shop only hires out the latest models of properly prepared sports equipment. Brand-new models that will give you more grip and dynamism on the Serfaus-Fiss-Ladis ski area slopes. At our various hire shops in Serfaus, we have the best skis and boards from all of the popular brands suitable for any terrain available for hire.
Regardless of whether you intend to free ride, freestyle or carve. We stock different categories, from the best models for beginners, the TOP Class, to our VIP Class for experienced athletes and our Super VIP Class for exclusive fun on the slopes. Everybody is bound to find something to suit their taste and ability.
Come to us for everything you need on holiday in Serfaus-Fiss-Ladis
In the best of hands with Patscheider ski hire
Free model change: You can change your model for free at all of our hire shops at any time.
Ultimate convenience: Hire from us and you don't even have to carry your equipment to the slopes – we can have it waiting for you there!
Try & buy: Try out the latest models every year and find your perfect model.
Personal consultation: Receive optimum advice from our experienced staff, as well as only proven quality and carefully selected models.
Hygiene is our priority: Our sports equipment is always thoroughly disinfected after it has been hired out.
Save on servicing costs: Our equipment is perfectly prepared before we hire it out. When you hire VIP or Super VIP Class models, they will be serviced free of charge once during your holiday
One-off special offers: Children and teenagers (up to the age of fourteen) receive a helmet free of charge when you reserve equipment for them.
Full flexibility: Should you be forced to return your equipment early for whatever reason, we will help you quickly and without fuss and reimburse you the difference straight away.
Carefree in your vacation: Book an additional ski or snowboard insurance for your rental equipment and enjoy protection against theft, loss and damage without any deductible.
Where to hire your skis in Serfaus
Check In, Take Off or Patscheider Shop?
Please do not hesitate to contact us if you have any questions, requests or improvement suggestions to make. Simply write us an email or give us a call. We are already looking forward to meeting you, and to impressing you with our comprehensive offer. You'll also find everything you need to know about the quickest way to get to us here.