Use our boot fitting service for perfectly fitting boots
"Happy Feet" boot fitting service
On the slopes at last, and your boots already start to pinch after only a couple of turns? This is one of the most common problems faced by skiers. Boots that are too tight or have not been adjusted properly cut off your circulation and can soon put an end to your fun on the slopes. Having your ski boots fitted professionally at Patscheider Sport prevents this. Learn more about this customised adjustment.
Show shops that offer the boot fitting service
Individually moulded to your feet
Various fitting options
Use of innovative technology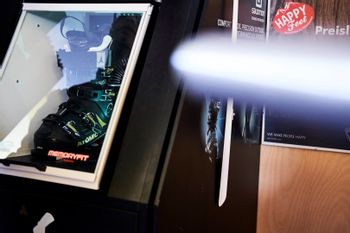 What is so special about our "Happy Feet" boot fitting service?
State-of-the-art technology and methods
During a ski boot fitting, the shape of your feet is analysed and their size is measured. After that, the ski boots liners are moulded to the individual shape of your feet to prevent pressure points and to improve their fit.
Competent service & expertise
Our local team will be happy to advise you. We offer a wide choice of the season's latest models. Our staff will help you to find the product that is perfect for you.
Top high-quality brands
Patscheider's range includes established brands such as Strolz, Dale Boots or Heierling. Perfect energy transfer, light and precisely crafted materials and full flexibility are quality promises which they keep.
With professional advice & an awareness of orthopaedics
The perfect boot right from the start
The perfect ski boots convert your exertion and technique into traction power which is then transmitted to your skis. It is therefore particularly important that your boots fit well, as this is the only way to achieve the ideal balance between performance and comfort, and to perform to your full potential on the slopes. The various boot fittings offered by Patscheider in Serfaus are a symbiosis of years of experience, an awareness of orthopaedics and skilled craftsmanship. They ensure that you are always in full control of your skis when skiing out in the ski area, have to expend less energy and that your feet don't hurt.
We stock ski boots from the brands Atomic, Nordica, Salomon, Lange, Dale Boots, Heierling, and Strolz. All of these boots are characterised by outstanding design, meticulous craftsmanship and the use of high-quality materials.
Boot fitting
directly at
the purchase
The offer
Patscheider's boot fitting service
All feet are unique. That is why it is often so difficult to find ski boots that really fit like they should, meaning that they should not pinch anywhere even after the fifth, sixth or seventh downhill run.
Boots that facilitate an optimum conversion of energy into traction power and guarantee full flexibility – regardless of the condition of the slope. Opting for ski boots from one of our top brands in combination with our customised boot fitting service achieves precisely this result.
The process
What happens at a boot fitting
First of all, our boot experts will ask you about your level of skiing expertise and your skiing style on the slopes. After that, your posture and your feet will be analysed and precisely measured before the model that is perfect for you is chosen. There are a few differences between the models such as, for example, fits for particularly slim or wide feet, the calf width, the instep height or also the level of hardness required for the various skiing styles, from leisure to dynamic and athletic.
Once the right model has been determined, the insoles are shaped perfectly to your individual foot contours with the aid of a mould taken from your footbeds. Potential problem areas on your feet are then lined with synthetic pads before the boot liners are heat-moulded into the shell to ensure best-possible balance distribution, more control and above all maximum skiing enjoyment and fun.
From the start to the perfect end result
Pictures from our boot fitting service in the shop
Exclusively available from Patscheider
The H1 by Heierling
A boot with a future. Inspired by the quality-consciousness of the past. The Heierling company is based in the Grison Alps in Switzerland and stands for tradition and long-standing environmental consciousness. With its H1, it has therefore created a boot that not only fits like a glove but also does so for a long time to come. The quality of this ski boot is so high that you'll be able to enjoy it for many years. All components are adjustable and replaceable. The boot therefore has several life-cycles, which makes it incredibly resource-saving. As the world's oldest ski boot manufacturer, Heierling has combined innovation and technical expertise with long-standing experience over the past by now four generations.
Long tradition of customised boot manufacture
Strolz - top-quality
Have you already tried out numerous ski boots, but all of them seem to pinch and cause you uncomfortable pain, and you are now looking for a permanent solution to your boot problems? Then customised, individually fitted ski boots from Strolz are the answer.
Strolz are based in Lech am Arlberg; their boots are therefore quality products made 100% in Europe – handmade in Austria – that can be adjusted precisely to match your body's anatomy. From the insoles to the boot lining and the shell, each part is moulded precisely to your feet.
The customisation process
First of all, our Strolz-trained boot experts will ask you about your level of skiing expertise and your skiing style on the slopes. However, they will also take potential previous injuries or your preferences into account during the consultation in order to guarantee an optimum result. After that, your posture, your feet, your insteps and your calves will be analysed and precisely measured. On the basis of this data, copies of the contours of your feet are made on wooden lasts which are then heat-moulded into the shells. After that, the model that is perfect for you is chosen. Strolz offers different fits and levels of hardness for anyone from leisure to dynamic athletic skiers. The model Evolution, for example, opens particularly wide to make it easy to put the boots on.
Now for the fine tuning: first of all, synthetic pads are glued to potential problem areas in order to give your feet more room in places where they might be prone to pinching. Then the shells are filled with foam. After around ten minutes, the foam inside your boots has set – and you have a unique pair of perfectly customised boots.
The insoles are also perfectly moulded to your the contours of your feet with the aid of moulds taken from your footbeds. This ensures best-possible balance distribution, more control and above all maximum skiing enjoyment and fun. Voilà: You are now bound to enjoy skiing in the Serfaus-Fiss-Ladis ski area even more.
Use of state-of-the-art technologies
Pictures from our boot customisation service
Offering a personal service is important to Patscheider
Boot fitting service for your own boots
The sun is shining, the sky is blue, the snow conditions are ideal – this could turn out to be the perfect day for skiing – if it wasn't for your ski boots... A familiar problem? Even the most beautiful day on the slopes can quickly become uncomfortable if your ski boots don't fit well. If you get pins and needles in your feet or toes when skiing, the soles of your feet start to burn or you are tortured by your boots pinching in places, we can usually help you with this. If your boots hurt your ankles or you suffer from bunions, we can also adjust the shells at a later stage to prevent them from pinching in these areas. Depending on the result of your boot analysis, we offer an individual customisation service for your ski boots with the aid of our awareness of orthopaedics and various methods. If you have any questions, you can ask our competent and trained boot experts.
Happy Feet
with your
boots
See here for where to find our boot fitting service
S1 centre, take-off or Patscheider shop?
To ensure that we can offer you and your feet the best service this winter and to reduce the waiting times at our shops, we recommend booking a boot fitting with us beforehand online.