Take Off
Directly next to the cable car line
Wide choice of hire and fun sports equipment
First-class service & advice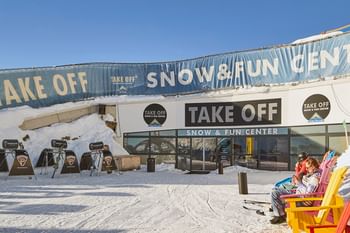 Every week we offer you a free ski and snowboard test between 09:30 - 11:30 a.m.
MONDAY - Snowbaord Test
TUESDAY - Ski Test
All you need is your ID and come by to Take Off Snow and Funcenter
Free Ski &
Snowboard
Test
Snow & fun centre
Patscheider at an altitude of over 2,000 metres above the sea level
Ever heard of airboarding? How are your snow biking skills? You can try out these and many other unusual types of winter fun sports next to the half-way station of the Komperdell cable car line in Serfaus. You can hire all kinds of fun sports equipment from the Patscheider shop at the take-off.
In addition, you'll find various winter sports accessories, ski and boot lockers, a free Wi-Fi access point and an information counter on our 1,100 square metres of floor space. Even here, at an altitude of more than 2,000 metres above sea level, the proven Patscheider Sport servicing offer also ensures that your skis or your snowboard are perfectly prepared for any kind of downhill run.
Pictures
From the take-off onto the slopes
Fun equipment
From sledge to snow bike hire
Give your skis a break, grab your best friends or colleagues and head off on a different kind of adventure: Patscheider Sport gives you the chance to try out some exclusive fun sports equipment in Serfaus. How about going "snow biking"? Or "skifoxing"? You'll experience the slopes in a completely different way. Of course, you can also hire sledges or snowshoes from our shop at the take-off. Thanks to the wide variety of fun sports equipment on offer, everyone is bound to find something they enjoy doing.
Brands at the take-off shop
Strong brands, the latest trends
Discover products from renowned manufacturers and international top retailers that help you to show off not only your skills but also your skiing style. Besides skis and snowboards from the top brands, you'll also find high-quality winter sports accessories and plenty of extras in our shop.

Try out skis directly on the slopes
Stöckli try before you buy centre
Patscheider Sport is the first and currently only official Stöckli try before you buy centre in Austria.
Try out the latest Stöckli models from the Laser range throughout the winter season. You can test the latest ski models at the take-off – our Snow & Fun Centre – directly in the ski area next to the Komperdell cable car line halfway station.
As we only have a limited number of try before you buy models available, please register your interest beforehand by calling us or writing us an email . When you buy a new pair of skis from us, we will deduct the cost from the purchase price.
The Exoskelett: expend less energy and gain more stability
Againer skiing system
Performance booster for your leg muscles
With the Againer Exoskelett attached to your legs, you not only support your lower leg and thigh muscles but also your knees and your back. It makes your movements more powerful and also takes some of the strain off these body parts, not only when you're crouching down. The Againer skiing system also gives you more power and stability in tight curves and during fast turns. Patscheider now offers you the chance to try out this revolutionary skiing concept for yourself. Directly at our take-off centre next to the Komperdell cable car line halfway station.
The board that's right for you directly on site
Burton test ride
At our Burton test ride centre, you can try out the latest and newest Burton snowboarding products. Leave your own snowboard at home and try a range of different boards – to match the snow conditions. As an official Burton method centre, we provide Burton's LTR (learn to ride) course for all newcomers to snowboard heaven. Burton's LTR course, developed in cooperation with leading snowboard training providers, allows beginners to progress as quickly as possible and ensures that they can already snowboard a whole short run on their first day on the slopes. You'll therefore enjoy the amazing feeling snowboarding gives you right from the start.
Some pictures from our shop
You are welcome to contact us
Any unanswered questions or something unclear? We will be happy to assist. Please select a contact option that works best for you. We look forward to hearing from you.
Shops with hire service
More Patscheider shops in Serfaus
From the slopes directly into the valley. Each of our shops or hire shops focuses on one particular area.