Ski and snowboard try before you buy
Try & buy
Hardly surprising that it's sometimes difficult to keep track of what's on offer, considering the wide range of different ski and snowboard models that are available for different skiing and boarding styles. To make sure that you make a decision you'll be happy with for a long time to come when you buy your equipment, we offer you a "try & buy" service here in Serfaus.
Find shops that offer this service
Try first, then decide!
Easy to follow comparisons between models
Wide choice of skis and boards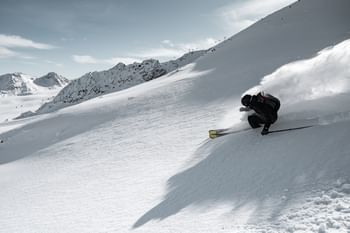 Ski try before you buy - the advantages of try & buy at a glance
Various models from the current winter season
Competent advice on choosing the model that's right for you
No fuss ski or board exchange
Perfectly prepared for fast turns
Now at the Patscheider hire shop
Try out the latest ski and snowboard models
We are always up to date and thoroughly informed about the latest equipment and technical developments and innovations to ensure that we can give our customers first-class advice.
The most reliable companions for your time on the alpine pistes are just waiting for you in Serfaus right in the centre of the village or by the cable car stations, where you can hire a choice of equipment in an easy and uncomplicated way from us. Anything from ski boots to helmets, from slalom to carving skis, from twin to powder boards and more. Perfectly waxed, checked and prepared for your timeless adventure in the breathtaking skiing area of Serfaus-Fiss-Ladis.
How our try & buy service works
Uncomplicated snowboard and ski try before you buy at Patscheider Sport
Thanks to our try & buy service, you can try out as many models as you'd like at our hire shops. Even better, when you buy skis or a snowboard from us, we will pay you back up to three days' worth of the hire charge, deducting it from the price you pay.
When you buy ski or snowboard boots, we also offer you a free "Happy Feet" boot fitting.
Weather permitting, we also host one special free testing event per season at the Take Off in the Snow & Fun Area:
Monday: Try and ride snowboard test (Burton, Burton Step On, Nitro, Battaleon)
Tuesday: Try and ride ski test (Stöckli, Kästle, Atomic, Salomon and many others)
All you need is a valid ID card or driving license, and you can have a go! Drop by and try & buy...
Best expertise
in the shops
Only at your local specialist sports equipment retail shop
Benefit from the many advantages of try & buy
You'll receive excellent advice from our specially trained staff and specialist sales assistants, who will help you to find the equipment model that's right for you, from head to toe. All of the important factors, such as your ability level, your preferred skiing style, the desired curve radius, your choice of terrain and your physical condition are therefore guaranteed to be taken into account when you buy skis from us to ensure that the product is tailor-made for your needs. We can address all of your individual requirements in detail and make sure that you will be happy and satisfied with your new skis out on the slopes.
Not only do you benefit from a comprehensive personal consultation but also from offers such as our personal customer service in the event of complaints and warranty claims.
We make 100% sure that the individual pieces of equipment you'd like to buy are also compatible with each other and work as well together as you'd like them to. In addition, your equipment is expertly mounted and carefully checked by our specialist staff at the shop – at no additional cost. This means that you receive a binding setting including an electronic check for added safety for free when you buy skis or ski boots directly from a Patscheider shops (safety and mounting costs are included in the purchase price)
When you buy ski boots, you benefit from our free "Happy Feet" boot fitting service. We will fit and fine tune your boots for you to make sure they fit perfectly!
You can try out different models here
Check-in, take-off or Patscheider shop?
Please do not hesitate to contact us if you have any questions, requests or improvement suggestions to make. Simply write us an email or give us a call. We are already looking forward to meeting you, and to impressing you with our comprehensive offer. You'll also find everything you need to know about the quickest way to get to us here.