Freibad Serfaus
Large pool with water slide
Tennis and volleyball courts
Sunbathing area with panoramic views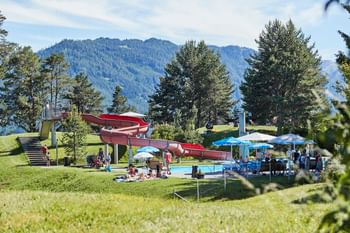 Larking about, fun & cooling down
The best refreshment on sunny days in Serfaus-Fiss-Ladis
A quick dip after a long hike? The refreshing water-world at the Serfaus lido offers fun and action for kids and adults who have remained young at heart, with a super water slide and a large pool for relaxed laps or wild water fights. Hang out and relax in the spacious sunbathing area with panoramic views of the wonderful Serfaus-Fiss-Ladis mountains. For kids, the playground is an absolute highlight. The more athletic can stay on the ball on three tennis courts and our beach volleyball courts. Keep up your strength with the ice cream, snacks and drinks sold at our kiosk.
Prices:
Daily price adults - € 6.20
Daily price children - € 3.00
From 4 p.m. adults - € 3.70
From 4 p.m. children - € 1.90
Parasol - € 2.60
Deckchair - €3.70
Some pictures from our shop
Hit the water: how to find us!
Any unanswered questions or something unclear? We will be happy to assist. Please select a contact option that works best for you. We look forward to hearing from you.
Waldseilpark high ropes park
You're more action-focused?
The X-Trees Waldseilpark high ropes park caters for adrenaline junkies. Show off your climbing skills and prove that you have a head for heights on one of our twelve courses.