Out and about with children
Pushchair hire
On the street. Across meadows. In the forest: With pushchairs and baby carriers from Patscheider, you can safely hike on all terrains with your family. Comfort and functionality 2.0. Nature is healthy. Especially the littlest adventurers benefit from the fresh mountain air and the wholesome forest climate. With our pushchairs and baby carriers, you can take your offspring with you at all times. For example on your next hike with our folding pushchair Summit X3, which is suitable for babies from the age of six months upwards. Equipped with all-terrain wheels, a reliable handbrake, a sun canopy and a seat that reclines almost fully, this pushchair is ideal for an off-road adventure family holiday with spectacular panoramic views. An other advantage of retning a pushchair is all the space you will save in the back of your car!
Find shops with pushchair hire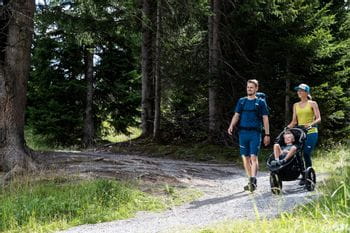 Vorteile für die ganze Familie
The whole family can benefit from our offers
Uncomplicated hire process
Let our staff advise you and conveniently hire a pushchair or a baby carrier right in the centre of Serfaus - it's easy!
Countless possibilities
Enjoy the wonderful mountain panorama of Serfaus-Fiss-Ladis in the summer as well as the winter on our pushchair-friendly hiking trails.
Cable car discovery tour
All of the region's cable car lines are wide enough to easily carry a pushchair, and the staff are happy to help you with getting on and off.
Mobil mit Kids in Serfaus-Fiss-Ladis
Jogging pushchair **** Summit X3
The Summit X3 is suitable for children from the age of around six months upwards and is the ideal holiday companion in our region Serfaus-Fiss-Ladis.
Handbrake
All-terrain wheels
Flexible on rough ground
Folding mechanism
Comfortably padded, fully reclining seats
Air vent in the backrest
Large sun canopy
Price per day: € 16.50
Jogging pushchair **** Thule Glide
The Thule Glide is a high-performance running buggy with a light-weight, aerodynamic design.
Includes fixed front wheel
Ergonomic height-adjustable handlebar for parent comfort
Rear suspension for a smoother and more comfortable ride
Padded, breathable seat that reclines almost fully to allow your child to nap on the road
Adjustable sun canopy with peekaboo window
Can be folded one handed for storage and transport
Available with or without bassinet
Price per day: € 16.50
Pull along wagon – Fuxtec model FX-CT800
The Fuxtec pull along wagon model FX-CT800 features a UV blocking sun canopy, a twin braking mechanism, an additional push handle and an interior extension.
Folding pull along wagon; folds down to a mere 15cm in height
Takes only seconds to fold together
Height-adjustable handle
Additional push handle at the back
Front and rear twin braking mechanism as well as locking brake
UV blocking sun canopy (LSF 17)
Padded floor cushion
Transverse rods with protective padding
Maximum weight 75kg
Price per day: € 16.50
Baby carrier
Hire a baby carrier made by the company High Colorado from us so you can also hike across rough terrain with your family
Zip pocket for storing your and your child's most essential items
Padded waist/chest straps for increased carrying comfort
Belt harness
Secure baby harness
HAS back adjustment system for individual adjustment to body size
Fold down aluminium frame means the backpack is self-supporting and can be set down and put on again safely without falling over
UV blocking sun canopy (LSF 17)
Maximum weight 20 kg
Price per day: € 13.00