Patscheider Shop Kids
The latest ski- and snowboardwear for kids only
Brands like Picture, Spyder, Burton, Roxy, Lego Wear keep our children warm
Special Murmli corner and more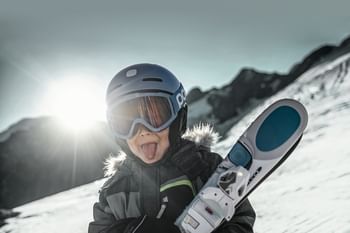 You find the kids collection still at the Patscheider House (1st floor) at Untere Dorfstraße 27!
Impressionen aus unserem Shop KIDS
Impressions of our shop KIDS
New in Serfaus this winter
Ski & snowboard clothing exclusively for children
So that our smaller guests are also well equipped for their next mountain adventure, we offer high-quality ski and snowboard clothing and accessories in our Patscheider Shop Kids. With our clothing for kids, nothing stands in the way of a great day, even in cold temperatures. From warm ski socks to base layers and fleece pullovers to ski and snowboard jackets and pants, gloves and helmets, you will find everything here especially for small children and youngsters.
You will find sustainable children's clothing from the Picture brand, as well as Burton, Roxy, Spyder, Lego Wear and cheaper brands such as Regatta or GTS at Untere Dorfstraße 10. Come by and visit our Murmli corner for kids.
Collect moments - not things
Hiking with a green footprint
Enjoy and experience great days with the whole family on our beautiful hiking trails in the mountains of Serfaus-Fiss-Ladis. We offer a sustainable and future-oriented option - the best hiking equipment for your children for hire.
We are starting our kid's hiking eqiuipment rental this summer. Please get in touch with us in advanced - either via email or call us directly- so we can make sure that the right size for your child is available during the your vacation!
Discover the kid's hiking equipment rental
Especially with our little adventurers, the need for new stuff is unavoidable - if the hiking boots fit perfectly one year, they are often too small the next year! We would therefore like to offer you an uncomplicated and, above all, sustainable solution for your children. With our kid's hiking shoe rental service, you can rent a perfectly fitting pair every year. This way we can save resources together and it also makes your luggage easier. And if the shoe ever pinches, an exchange is possible at any time in our Patscheider shop.
In addition, we also offer a rental for children for:
- backpacks
- rain poncho
- hiking sticks
The Kids shop is closed. You wiull find our kids collection in our Patscheider Haus at Dorftstraße 27.
You are welcome to contact us
Any unanswered questions or something unclear? We will be happy to assist. Please select a contact option that works best for you. We look forward to hearing from you.
Sports equipment & fashion
Sportswear and fashion shops near you
You'd like to shop even more? Why not drop in at one of our other shops in Serfaus. We are looking forward to meeting you.
Impressions of the Patscheider Shop